Sweety Home Nationwide Promotion 2019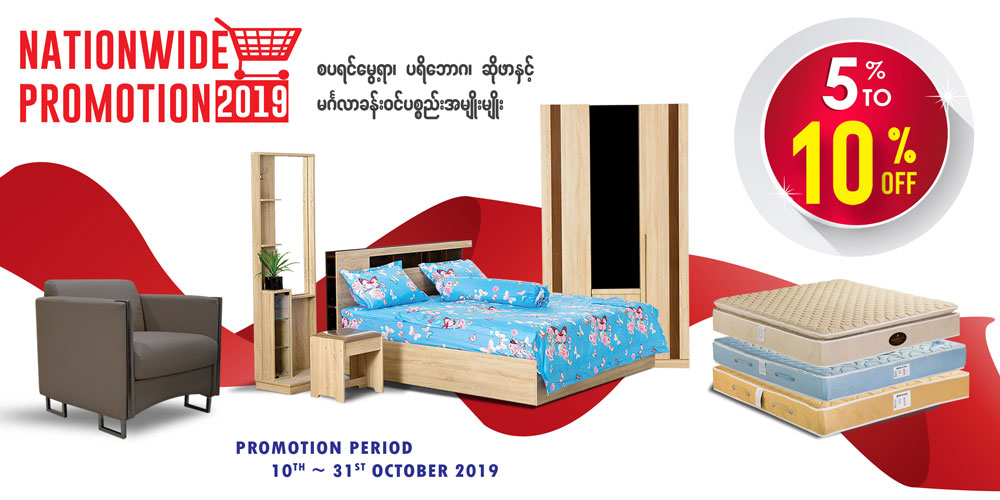 Dear beloved Sweety Home customers,
Thinking of decorating your newlywed house with beautiful furniture? Or renovating your current house to make an upgrade?
We are back to our Nationwide Promotion again!!! Starting from 10.10.2019 to 31.10.2019, we will be giving discount promotion in all our showrooms and Sweety Home resellers. You will be getting up to 10% discount for various products!  
What are you waiting for!? You can purchase all these amazing products from our various showrooms located in Yangon and Mandalay (stated as below). You can also purchase it from our resellers throughout Myanmar.
Yangon
1. Sweety Home Living Mall (Thaketa) No.296/A-12, Ayeyarwon Street, Thaketa
    Township, Yangon, Myanmar.Ph : 95-1-547122, 551591. Hot Line: 09-977919111.

2. Sweety Home Living Mall (Hlaing) No.82,Ywama Kyaung Road, Hlaing, Yangon,
Myanmar.Hot Line – 09 9779 19555, 01 – 521255

3. No.3A, Mindama Road, Mayangone Township, Yangon, Myanmar.Ph : 95-1-
9669544. Hot Line : 09-977919333 .

4. No.84, Yadanar Street, 8 Block, South Oakalar Township, Yangon, Myanmar.Ph :
95-1-8550358,8550359. Hot Line : 09-977919222.

5. Yuzana Plaza 4th Floor.Ph : 200747 Ext :5522,5599,205224. Hot Line : 09-

977919444





No . (2/B) , Kan Nar Road , Thittaw Qtr , Ahlone Township . Ph : 09 971111418 ,




09 971111082

Mandalay

1. Sweety Home Living Mall (35 Road) No.(13/1),35th Street, Between 64th & 65th
Street , Mandalay.Ph : 02-65938,09 91029985. Hot Line : 09 977919888.

2. No.236,33rd Street, Bet : 81th & 82th Street, Mandalay, Myanmar.Ph : 95-2-34021,
4060810, 61668(3 Lines).Fax : 95-2-60810